Pink Warrior - Social Media
Follow, Join, Like, Tweet, Tag and Hashtag us on your social media and help us raise money for a cure.


Pinterest @PinkWarrior0115


Pink Warrior - Events and Media Coverage
Cooking up a Cure with Pink Warrior with Mike Ciona Nov 30, 2016  CTV Morning Live - Book Promotion
Pink Warrior Donates $75,000.00 to Brain Cancer Research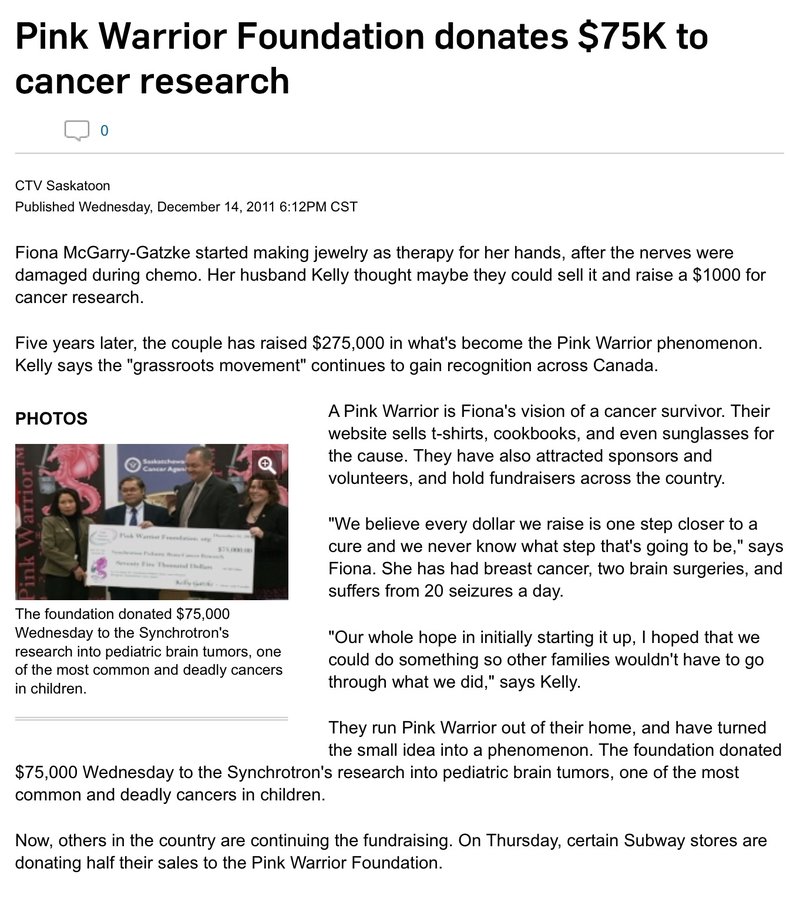 TV Interviews
Pink Warrior Zumbathon with Kelly Duncalfe-Baker from Move N Soar and CTV's Stephanie Massicotte Thursday Oct 3, 2013 in Saskatoon, SK.
C-95 Radio Marathon with Jessica Kent from Global Saskatoon
Cooking Up a Cure on the Saskatoon Global Morning Show
Personal interest, in honour of our Golden Hearts, Inspiration oncology at the WCVM - interview with Jeff Rogstad CTV news at noon
Pink Warrior® is a registered trademark by Mr. Kelly Gatzke at PinkWarrior.com or PinkWarriorFoundation.org. Unauthorized use of any trademarked, copyrighted or intellectual property, in whole or in part, without the express written consent of the owner Kelly Gatzke is strictly prohibited. 
Trademarks, copyrights and slogans including but not limited to; Pink Warrior word-mark, Pink Warrior logo, Pink Warrior dragon design logo, Pink Warrior Foundation for Cancer Research, Pink Warrior Fights Cancer, Be a Part of the Difference, Change Cancer, Fight Like a Dragn, When someone you love has cancer - you fight cancer too, Sea of Pink, Cooking Up a Cure, Pink Warrior & Friends.