Our Story - The Pink Warrior Story
Fight Cancer - Change Cancer - Be a Part of the Difference.
When it comes to raising awareness about cancer,

The Pink Warrior Foundation

and its retail website, Pink Warrior is on a mission to do it right.
Pink Warrior sells unique and quality cancer awareness products and merchandise
to individuals who want to be a part of the difference in the fight against cancer. It's the simple things, like wearing a pink scarf or T-shirt with an inspirational cancer survivor quote, that help raise awareness of the need for consistent cancer research funding.


As of Pink Warrior's 10-year anniversary, sales, events and donations have grossed more than $550,000 for cancer research. Time and time again, Pink Warrior has surpassed its modest original goal of raising $1000 for the C95 breast cancer marathon, back in 2006.
The founding of Pink Warrior® starts with a cancer story. The story of Fiona, and her husband Kelly, who rubbed her legs when the pain was too unbearable, cooled her forehead while she vomited after chemotherapy, and spent countless nervous hours at doctors' offices waiting for results. A story of loss for what could have been, anguish, fear, not to mention the expected discomfort and nausea but also chronic pain, countless surgeries and scars.
Fiona's cancer story is also one of hope and survival. Fiona learned to be brave through the tough times, celebrate the good times and become her own advocate and stand up for herself. She learned to think of herself as a survivor from the moment she was diagnosed, not someone focused on a destination, but a raw determination to never give up along her journey.
This experience was the catalyst for Kelly's mission to Be a Part of the Difference™. With Fiona, Kelly founded and grew Pink Warrior® with a mission to raise awareness for and fund cancer research. No one draws a salary, it is all volunteer. The Pink Warrior Foundation is distinct in Canada for its commitment to cancer research for all types of cancer as well as directing all donations to cancer research.

 
For more than 10 years, Pink Warrior, along with an army of dedicated volunteers and supporters, has hosted or joined hockey tournaments, concerts, cabarets and speaking engagements to raise awareness and fund cancer research. Pink Warrior's popular annual golf tournament raises between $15,000 and $100,000, all of which goes to cancer research.

 
Pink Warrior designs and sells cancer awareness merchandise and gifts through its retail website . Its best-selling cancer survivor cookbook,

Pink Warrior & Friends

, is also
available on the Pink Warrior retail website and at several bookstores.
Pink Warrior continues its dedicated battle against cancer. Thanks to volunteers, sponsors, and participants at their many fundraising events and to shoppers like you who buy Pink Warrior merchandise, Pink Warrior is able to fund more research, raise more awareness, and be a knowledge base and hope giver for cancer survivors and their friends and families.
Fight Cancer. Change Cancer. Be a Part of the Difference with us. Here's how you can do it;
Yes I want to donate with credit card or paypal to the Pink Warrior Foundation.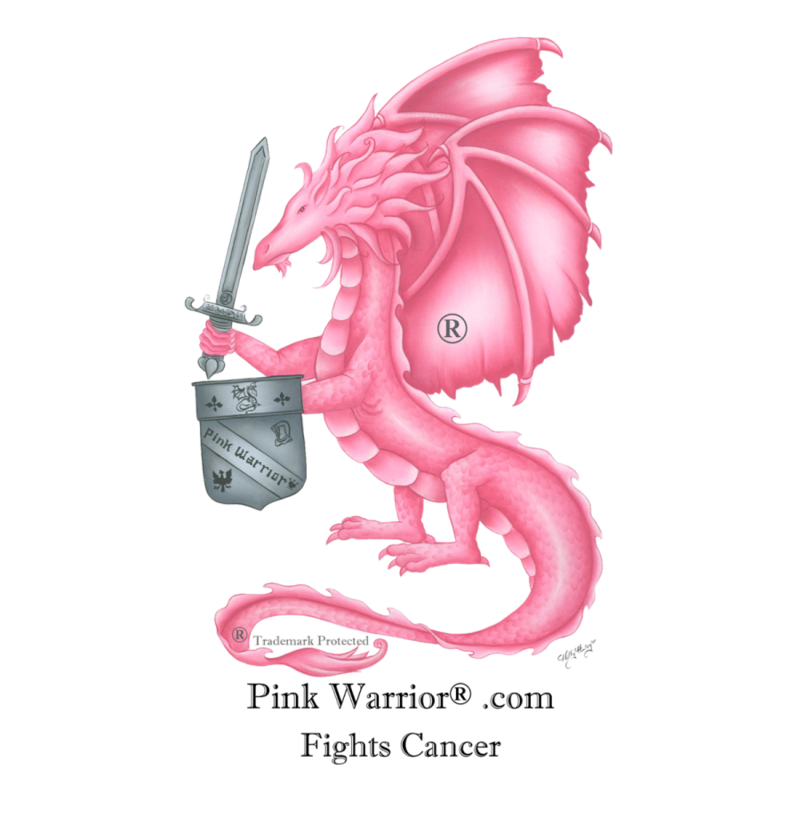 Yes I want to shop for Pink Warrior merchandise to show my support and raise awareness.
Pink Warrior® is a registered trademark by Mr. Kelly Gatzke at PinkWarrior.com or PinkWarriorFoundation.org. Unauthorized use of any trademarked, copyrighted or intellectual property, in whole or in part, without the express written consent of the owner Kelly Gatzke is strictly prohibited. 
Trademarks, copyrights and slogans including but not limited to; Pink Warrior name (word-mark), Pink Warrior logo, Pink Warrior dragon design logo, Pink Warrior Foundation for Cancer Research, Pink Warrior Fights Cancer, Be a Part of the Difference, Change Cancer, Fight Like a Dragn, When someone you love has cancer - you fight cancer too, Sea of Pink, Cooking Up a Cure, Pink Warrior & Friends,